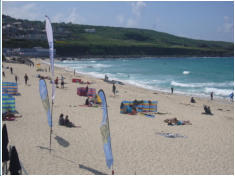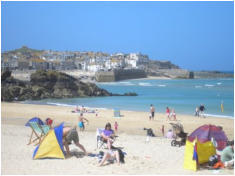 14 Channel View is located in the beautiful town of St. Ives, Cornwall
which was voted the Best UK Seaside Resort in both 2013 and 2014
by the British Travel Awards and Cornwall's Best Family Holiday
Destination and Best Seaside Town by Coast Magazine and the
St. Ives is located in West Cornwall, on the stunning North Coast, with
Penzance lying six miles to the south. Due to the climate being among
the mildest in the UK, thanks to the warming effect of the Gulf Stream,
St Ives is the ideal holiday destination both in and out of season.
St. Ives has four main beaches: Porthmeor, Porthminster,
Porthgwidden and the Town Beach. Whether you prefer surfing on
Porthmeor or sunbathing on Porthminster, there is an ideal beach for
The house is positioned above Porthmeor Beach, with far reaching
views of Godrevy Lighthouse to the right and Clodgy Point to the left.
Tate St. Ives is only a few minutes walk from the house, with the main
town only a few more minutes walk.
Within the town of St. Ives you will find cafes and restaurants to suit
every taste in it's quaint, cobbled streets. Picturesque, granite cottages
line the streets in the old town and an art gallery can be found round
every corner. The quality of light has attracted a world renowned art
colony including Barbara Hepworth, Turner, Henry
More recent artist have included Patrick Heron, Trevor Bell and Mick
Paynter. St. Ives has it's own school of painting which runs courses
Attractions further afield include:
The Minack Theatre - Cornwall's world famous open-air theatre is
located at Porthcurno, 4 miles from Land's End. It is in a fantastic
situation in the cliffside above Porthcurno Beach and offers amazing
views of the Atlantic Ocean. Further details can be found at:
Porthcurno Telegraph Museum - This extremely interesting museum is
located just below The Minack Theatre, next to Porthcurno beach and
tells the story of the technology behind communication. The first
telegraph cables that linked Britain with other nations came ashore at
the cable station which is located here. It played a very important role
during both world wars and more details can be found here:
Land's End - The most westerly part of mainland Britain, Land's End is
located about 8 miles to the west of Penzance. Land's End has been a
tourist attraction for many years, and a small museum showing the
fantastic achievements of people undertaking the famous John
O'Groats to Land's End journey can be found here. More details can
www.landsend-landmark.co.uk
St Michael's Mount - This enchanting island has been home to the St
Aubyn family for hundreds of years. The Castle that sits atop the island
is fascinating year round and offers panoramic views across Mounts
Bay, to the Lizard and Land's End. The inside of the castle tells the
history of the island and the castle and is well worth a visit. More
www.stmichaelsmount.co.uk